Multiple starting modes

Current-limiting start, ramp current-limiting start and voltage ramp start can meet the site requirST100ents to the maximum extent and realize the best starting effect.
High reliability
High performance microprocessor conducts digital processing for signals in control systST100, avoiding the excessive adjustment to analog line so as to obtain the best precision and execution speed.
Powerful anti-interference performance
All external control signals adopt optoelectronic isolation and are set with different anti-noise levels. The device is applicable for use in special industrial environment.
Optimized structure
The unique compact structure is designed to be easily integrated into user's existing systST100, saving expenses for restructuring of systST100.
Motor protection
Multiple motor protection functions such as over-current, input/output phase-failure, short circuit of thyristor and overheat protection can guarantee motor soft starter not to be damaged in case of fault or incorrect operation.
Easy maintenance
Pilot signal coding systST100 composed of 4-digit number display monitors working condition
Typical Applications
• Bow Thruster, • Compressor, • Elevator, • Centrifugal pump
• Conveyor belt • Mixer, Centrifugal fan, • Crusher • Mill
• Conveyor belt (long) • Stirrer
Control power: AC110V--220V+15%
Three-phase power supply: AC380V, 660V, 1140V±30%
Nominal current: 15A-----1000A, totally 22 kinds of rated values.
Applicable motor: General squirrel cage asynchronous motor.
ST100
Description
Input Power Supply
Input Voltage
Three-phase 220V/380V/480V/660 AC
Frequency
50/60Hz
Adaptive Motor
Squirrel-cage three-phase asynchronous motor
Starting Times
It is recommended not to exceed 20 times per hour.
Control Mode
(1) Operation panel control. (2) Operation panel + external control.
(3) External control. (4) External control + COM control.
(5) Operation panel + external + COM control. (6) Operation panel + COM control. (7) COM control. (8) No start or stop operation.
Start Mode
(1) Current-limiting to start. (2) Voltage ramp to start. (3) Torque control + current-limiting to start. (4) Torque control + voltage ramp to start.
(5) Current ramp to start. (6) Voltage current-limiting double closed-loop start.
Stop Mode
(1) Soft stop. (2) Free stop.
Protective Function
(1) Open loop protection for external instantaneous stop terminals.
(2) Over-heat protection for soft starter.
(3) Protection for too long starting time.
(4) Input open phase protection.
(5) Output open phase protection.
(6) Unbalanced three-phase protection.
(7) starting over current protection.
(8) Running overload protection.
(9) Under voltage protection for power voltage.
(10) Overvoltage protection for power voltage.
(11) Protection for fault parameter setting.
(12) Load short circuit protection.
(13) Auto restart or incorrect wiring protection.
(14)Incorrect wiring protection of external control stop terminals.
Ambient
Place to be used
Indoor location with good ventilation free from corrosive gas and conductive dust.
Altitude
Below 1000M. It have to rise the rate power when the altitude is more than 1000M.
TST100perature
-30 +55 oC
Humidity
90%RH without dew condensation.
Vibration
<0.5G
Structure
Protection Class
IP20
Cooling Pattern
Natural wind cooling.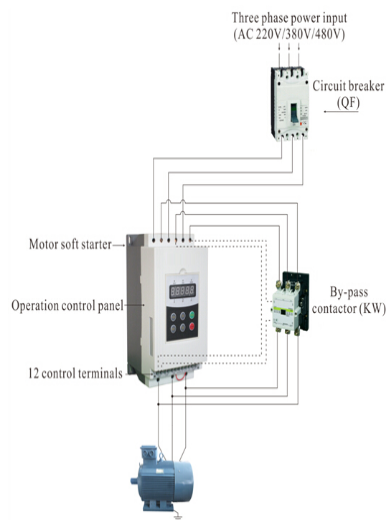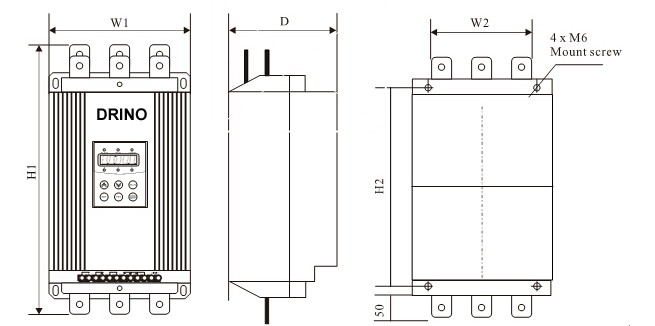 Dimensional drawing Mounting holes schST100atic
Model
Power
Current
External Dimensions (mm)
Installation Dimensions (mm)
N.W
220V
380V
480V
(KW)
(A)
H1
W1
D
H2
W2
d
(K.G)
ST100-GJ2-045
ST100-GJ3-090
ST100-GJ4-090
45/90
180
515
257
198
382
192
M9
<21
ST100-GJ2-055
ST100-GJ3-115
ST100-GJ4-115
55/115
230
515
257
198
382
192
M9
<21
---
ST100-GJ3-132
ST100-GJ4-132
132
264
515
257
198
382
192
M9
<21
ST100-GJ2-075
ST100-GJ3-160
ST100-GJ4-160
75/160
320
515
257
198
382
192
M9
<21
ST100-GJ2-090
ST100-GJ3-185
ST100-GJ4-185
90/185
370
515
257
198
382
192
M9
<21
ST100-GJ2-100
ST100-GJ3-200
ST100-GJ4-200
100/200
400
515
257
198
382
192
M9
<21
ST100-GJ2-132
ST100-GJ3-250
ST100-GJ4-250
132/250
500
515
257
198
382
192
M9
<21
ST100-GJ2-160
ST100-GJ3-280
ST100-GJ4-280
160/280
560
515
257
198
382
192
M9
<21
ST100-GJ2-185
ST100-GJ3-320
ST100-GJ4-320
185/320
640
560
285
248
460
260
M9
<25
---
ST100-GJ3-355
ST100-GJ4-355
320
640
560
285
248
460
260
M9
<25
ST100-GJ2-200
ST100-GJ3-400
ST100-GJ4-400
200/400
800
590
331
248
497
265
M9
<30
ST100-GJ2-220
ST100-GJ3-450
ST100-GJ4-450
220/450
900
590
331
248
497
265
M9
<30
ST100-GJ2-250
ST100-GJ3-500
ST100-GJ4-500
250/500
1000
665
410
248
547
345
M9
<42
ST100-GJ2-315
ST100-GJ3-600
ST100-GJ4-600
315/600
1200
665
410
248
547
345
M9
<42
Application examples
The parameters of the different loads are different, please refer to below diagram
| | | | | | |
| --- | --- | --- | --- | --- | --- |
| The loading | Voltage ramp starting time(s) | Voltage ramp stopping time(s) | Initial voltage | Voltage ramp (current limit) | Current limit to start |
| Ball mill machine | 20 | 6 | 60% | 400% | 350% |
| Fan | 26 | 4 | 30% | 400% | 350% |
| Centrifugal | 16 | 20 | 40% | 400% | 250% |
| Piston compressor | 16 | 4 | 40% | 400% | 300% |
| hoister | 16 | 10 | 60% | 400% | 350% |
| Stirring machine | 16 | 2 | 50% | 400% | 300% |
| Breaker | 16 | 10 | 50% | 400% | 350% |
| Screw compressor | 16 | 2 | 40% | 400% | 300% |
| Rotating conveyor | 20 | 10 | 40% | 400% | 200% |
| Light load | 16 | 2 | 30% | 400% | 300% |
| Convey belt | 20 | 10 | 40% | 400% | 250% |
| Heat pump | 16 | 20 | 40% | 400% | 300% |